Temps de lecture :
3
minutes
Founded in 2014, Bitpanda is a platform for investing in all kinds of financial assets. From Bitcoin to Gold to Tesla stock, Bitpanda has become a must for investors.
Here's our Bitpanda guide to learn more about the platform.
What is Bitpanda ?
Bitpanda is an Austrian company founded in 2014 in Vienna. The platform could be defined in one word, "multi-trading". Its purpose is to offer as many investment opportunities as possible to its users. The long-term ambition is to redefine the notion of investment and to democratize it. An ambition almost fulfilled since it offers simple financial products accessible by everyone.
For a few months and after 7 years of existence, Bitpanda makes more and more noise. With over 3 million users and a rapidly growing market, the platform is expanding rapidly. You only have to look at the number of posts offered by the platform to see its evolution speed.
Moreover, it was one of the first platforms in France to be regulated by the AMF, the Autorité des marchés financiers, in English FMA, Financial Markets Authority. Finally, it is an approved PSD2 payment service provider. The purpose of this payment service is to introduce "stricter security standards for online payments in order to strengthen consumer confidence in online purchases".
What can we buy on the plateform?
Bitpanda offers hundreds of different financial assets. Thus, you can invest in dozens of different crypto-currencies, stocks of the biggest multinationals, precious metals, Exchange Trade Funds (ETFs) and crypto indexes.
When it comes to crypto-currencies, the platform has a wide panel with more than 70 different cryptos.
Bitpanda also offers to invest in the first crypto indexes in the world! There are 3 of them: BCI 5, BCI 10 and BCI 25 (BCI = Bitpanda Crypto Index). Each index is composed of several cryptos, the number after each BCI corresponds to the number of crypto in the index. For example, the BCI 5 contains 5 different cryptocurrencies. The indexes are adjusted every month and the cryptos are chosen according to their performance, size and liquidity.
One of the big advantages of the platform is that you can buy shares. Bitpanda offers you almost 100 different stocks. You can invest in Tesla or Amazon as well as in Carrefour.
It also offers the possibility to invest in ETFs. Very popular with investors, the platform offers 8 different ETFs at various prices.
Finally, Bitpanda allows you to invest in metals, 4 to be exact: gold, silver, palladium and platinum. The platform assures that the ingots belong to you and that they are your legal property stored in a highly secured vault in Switzerland: "All precious metal ingots are investable securities and are accredited by the LBMA".
The other benefits of Bitpanda
The advantage of Bitpanda lies in its strength, the diversity of its products. Indeed, you will be able to create a savings plan by programming automatic investments in the various assets that the platform offers. No need to invest on several platforms and get lost in your accounts, with Bitpanda everything is in one place on one application.
Indeed, there is a mobile application from which you can manage your investments. Very intuitive, it is available on IOS and Android.
In partnership with Visa, the platform has created the Bitpanda Card. It allows you to easily spend your cryptocurrencies, metals and different assets on the platform.
If you are a beginner, there is a Bitpanda Academy web page where you will find many courses to train yourself and discover all the subtleties of the different investments.
Finally, the platform has an excellent rating on Trustpilot with 80% of 5-star reviews and an overall rating of 4.5/5.
How to sign up on Bitpanda ?
To sign-up on Bitpanda, nothing could be easier, just click on the button below!
You will then arrive on this web page, you must click on the "Sign up" button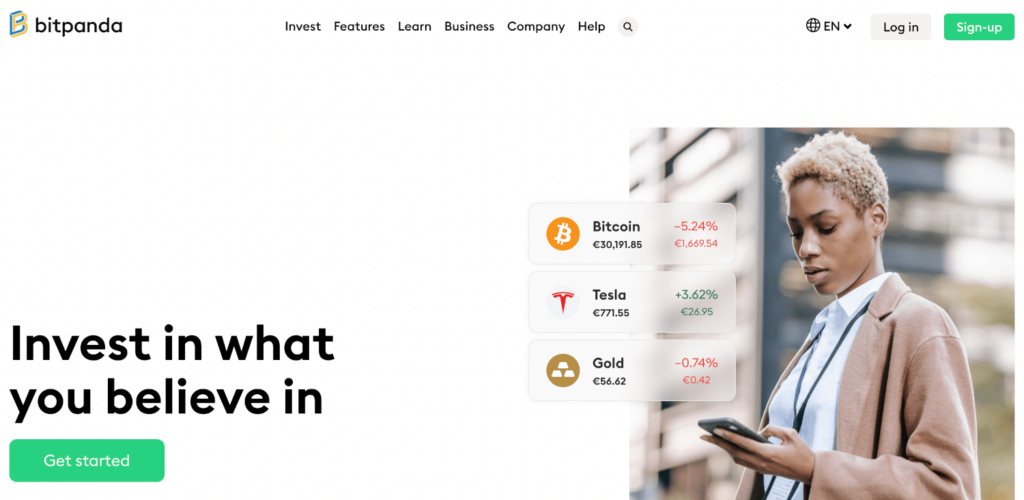 You will fill in your personal information and confirm your identity. Once verified, you can make a deposit in euros, dollars or the currency of your choice. Now all you have to do is invest!