Temps de lecture :
15
minutes
The Stellar Lumens blockchain offers a fully decentralized open source network designed to facilitate small transactions, especially between individuals, and to speed up operations. Find out in our guide how the blockchain and its cryptocurrency work.
The evolution of the Stellar Lumens (XLM)/Dollars (USD) exchange rate
Before even considering buying lumens, it is important to follow the current currency rate: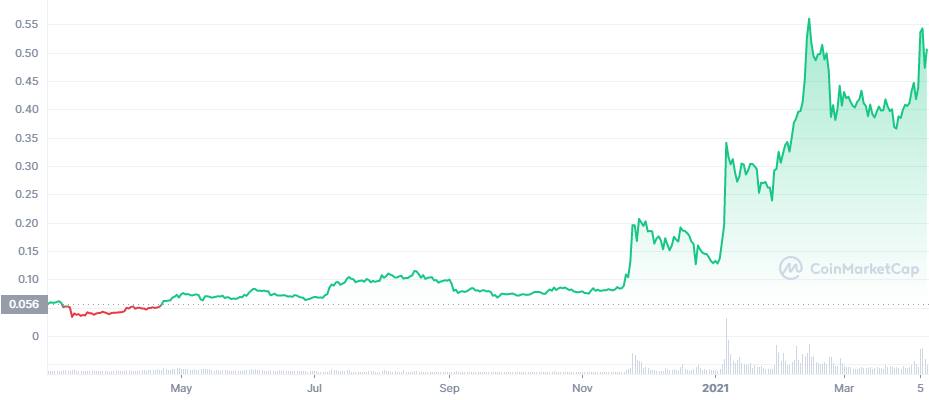 The current price of Stellar Lumens (XLM)
At the moment, Stellar is worth $0.50. Initially, when it was launched in 2014, there were 100 billion lumens on the network. As specified, this value is only momentary since the currency is listed on the stock market, its price is volatile. Currently, the number of XLMs on the network has decreased by half, there are 50 billion in total. There are 20.7 billion lumens in circulation worldwide.
Price history of the Stellar Lumens (XLM)
It has been 7 years since the Sellar Lumens appeared on the market. Its price has undergone many changes and upheavals. Let's look back at the history of the XLM price:
2014: The year the blockchain and stellar (XLM) was created, its price was 0.002 dollar and climbed to 0.006 dollar in five days. Although its price is attractive, few cryptocurrency users are then interested in the new blockchain and its tokens. Finally, the year ends with the value of the stellar at 0.005 dollar.
2015: In November of that year, an improved version was released. Many more changes are to be expected for the blockchain and its currency. The first major resolution and update is made on the currency directly. We go from stellar to lumen to designate the tokens put into circulation on the market. Despite this, the stellar is still commonly used today to designate the blockchain and its currency. The value of a lumen fluctuates between 0.001 and 0.003 dollars.
2016: More changes are made in this year, and the currency begins to attract more and more companies and individuals. The instability of its value from the previous year continues, and the rate continues to oscillate between 0.001 and 0.003 dollars.
2017: New updates increase the price of the XLM. It reaches a value of 0.3 cents. Successful partnerships with IBM are also taking place. Agreements with other organizations to conduct transactions between Europe, the Middle East and Africa participate in these changes.
2018: The value of the lumen experiences a strong increase, its price reaches 0.89 dollars. However, this nice increase does not last and the price falls by almost 45% at the end of the year.
2019: The beginning of the year is marked by a lumens value falling to 0.1 dollars, before dropping again to 0.08 dollars.
2020: Last year, despite the COVID-19 health crisis, the value of stellar gradually increased and even reached a value of 0.19 dollar in November. It ends the year at 0.15 dollar.
2021: At the beginning of this year, after peaking at 0.56 dollar in mid-February before falling back, the XLM reached 0.54 euro and seems to continue an upward movement in April.
Stellar Lumens stock market listing
What factors affect the value of Stellar Lumens (XLM)?
Supply and demand
To determine the price per lumen, several factors come into play. One of the most influential is you! The price of a lumen depends entirely on supply and demand. The more users of the network who ask to buy it, the higher the price per lumen. On the other hand, its price decreases when the supply is higher than the demand. Since this depends solely on the needs of the user and the supply present on the market, the price is therefore ephemeral.
So, as you can see, the value of your lumens is constantly changing. Here are the factors to take into account and to observe regularly
The major cryptocurrencies
Bitcoin
Bitcoin is the largest cryptocurrency on the market today. As such, it directly fluctuates the value of other currencies, including the Stellar. Bitcoin is not based on a fiat currency system either, but is decentralized and fluctuates according to the laws of supply and demand. So keep a close eye on the price of Bitcoin to get an idea of whether your tokens will change for the better or worse.
Ripple and Ether
There are other crypto-currencies to watch out for: the direct competitors of Lumens are RippleNet (XRP) or Ethereum (ETH). These two currencies have a much greater influence on Lumens than Bitcoin can have. Indeed, regarding the ether, many investors and traders keep a close eye on the ETH/XLM pair, thus the ratio that the two currencies form. Although their goals and functioning are different, the two currencies influence each other. Whether their respective prices are rising or falling, this particular pair allows investors to gain much more than if each was treated separately and differently. Thus, both crypto-currencies are attracting a lot of interest due to their accessibility and supply. The XLM/XRP ratio is equally important and worth paying attention to
The reputation of Stellar Lumens
The reputation of this cryptocurrency plays a key role in influencing its price. Depending on the perception of the media, network users and investors, the value of the Stellar can change dramatically. Opinions, both positive and negative, that circulate notably in social media have a real impact on its price. This also includes the reputation of all cryptocurrencies and exchange platforms. For many people, cryptocurrencies are still synonymous with insecurity and volatility. In reality, you just need to know how to use the networks well and keep your tokens well
The tax systeml
The country's tax system and its regulations on the cryptocurrencies that circulate there have great consequences on the value of lumen. It is a decentralized currency, which thus requires a minimum of government control. Each country decides on the control system established and can change its tax rules overnight. It is therefore important not to overlook this element which could make exchanges and transactions between users difficult, especially on an international scale. Nevertheless, more and more public companies, sometimes in the service of governments, are signing contracts and using cryptocurrencies and their networks. The goal for governments is therefore to secure access and exchanges by controlling these networks as much as possible, but above all to benefit from their advantages
Partners and investors
As mentioned earlier in the lumen price history, contracts with partners increase the currency's value. Partners and multiple investors therefore have a decisive impact. It is these same partnerships and investors that also fuel the popularity of the currency among the general public. The Stellar could be the best ally for businesses on an international scale.
Lumen (XLM) forecasts and future
This is a cryptocurrency that remains under the influence of many of the factors listed above, which themselves fluctuate greatly. It is therefore rather difficult to predict the price of lumen in the future with any accuracy.
However, it is estimated that the value of the lumen for this year 2021 should oscillate between 0.30 euro at the minimum and 0.51 euro at the maximum. According to the experts, Stellar Lumens should not experience a dramatic change in 2021. The capabilities of its currency and blockchain allow it a successful and promising future.
Its network ensures that it can handle a lot of transactions and requests at once, while keeping fees extremely low. Nothing more pleasing for lumens users. It's a little less so for its competitors who struggle to combine demand satisfaction, speed of transactions and low fees. We therefore strongly advise you to invest in Stellar Lumens now. Even if you start with a small amount, the result will only be beneficial for you!
All about Stellar Lumens (XLM)
The Stellar Lumens Story
Bitcoin innovator and co-founder of RippleNet, Jeb McCaleb teamed up with Joyce Kim to create Lumens. Stellar Lumens is the cousin of RippleNet, founded on July 31, 2014. Specifically, it is a fork, which is the creation of software from an older one. There are many forks taking place in the cryptocurrency world. It is a very common technique after differences between creators or among the community. The objective of Jeb McCaleb, an American programmer, is to create a real peer to peer network, entirely decentralized. This new network would not be owned and controlled by a handful of large investors and shareholders of the currency as RippleNet (XRP) was. Moreover, RippleNet focused on cross-border exchanges, which are very large and difficult to manage. The novelty and the particularity of Stellar is to propose exchanges with reduced amounts and therefore a greater speed of transaction.
What are Stellar Lumens for?
Stellar Lumens is an international exchange network and a means of transaction thanks to its currency. Its token is fundamental in this system, allowing it to convert currencies. Of course, its uses can be multiple and infinite, according to your needs and goals. In short, you are free to buy bread or to finance your next vacation abroad. It should be noted that 20% of the tokens of the blockchain are offered to Bitcoin (BTC) or RippleNet (XRP) holders, which will then be used in Stellar Lumens.
What's a lumen?
Stellar is a blockchain, but it also has an eponymous currency whose acronym is XLM. A lumen is therefore the token, the unit of currency used in this same network. It was in 2015 that the tokens were given the new name of lumen, rather than stellar. This change is made to dissociate the network from its currency. Even if it is replaced by the term lumen by its creators in 2015 to designate the token, the stellar is the term most used by users. Basically, the concept remains the same as other cryptocurrencies, with rather similar terms and actions. The founders primarily aspire to be able to facilitate international exchanges and micropayments. This cryptocurrency and its blockchain are aimed at both individuals and businesses, although the focus on small transactions makes them more for the former.
Can we mine Stellar Lumens?
Stellar Lumens cannot be mined, unlike other cryptocurrencies. Mining is an essential blockchain activity in some networks. At the heart of transactions between users, mining mainly involves processing exchanges one by one and attaching them to a block, before adding it to the blockchain network. In general, miners are paid with the tokens produced by the blockchain. Thus, Stellar is quite special because mining is not a tool used in transaction processing.
As previously mentioned, the number of lumens has halved since its creation in 2014. There are now 50 billion of them, with 20 circulating around the world. This means that no new lumens will be created again. The rest of the tokens are used to promote and develop the network, about 5% of the XLM.
How does Stellar Lumens work?
The Stellar-Lumens network is simple and easy to access. Stellar is the protocol, lumen is the cryptocurrency. The Stellar blockchain supports a large transaction processing capacity. There are nearly 1,000 transactions processed per second, or 1 transaction validated in 3 seconds. User demand is easily accommodated in the network thanks to the 50 billion tokens created.
Through this decentralized network, users can send and receive any other type of cryptocurrency or fiat currency to their account. It is important to know that the blockchain is managed by a non-profit organization called Stellar.org. This same organization governs contracts with investors and companies in order to best develop the Stellar project in the future. If the association also implements several financial applications, it does not have the goal of making money, which justifies a decentralized network. A network entirely at the disposal of users, thanks to its open source protocol.
Each transaction is recorded and copied to the servers of the Stellar network. Anyone can have a server, whether it is an individual or a company. This even benefits the network, since the more servers there are, the more resilient the system is and the more transactions it can handle. The Stellar Consensus Protocol (SCP) is used to manage the operation of the network.
Another crypto-currency using the SCP system: Pi Network
An open source protocol
Without mining, the transactions are carried out through a protocol, called open source, of agreements between accounts. Open source refers to software designed to be visible and consulted by all. More formally, it is computer code that allows anyone to modify information. Developed by the software community, the open source protocol is decentralized, therefore more flexible and guarantees a more certain future than other protocols. The open source protocol is more and more used and industrialized by emerging countries (India, China, Brazil among others). So many countries likely to use the Stellar network in the near future if it is not already the case. The open source protocol is attractive because it allows a great independence and a certain access to many software. There is no mining, therefore no miners to validate the transactions.
Nodes
Transaction validators are called nodes. Nodes operate on a voluntary basis and are not paid in any way. In general, they are companies that offer their help to the Stellar network, or sometimes they are directly part of the system. There are several types of nodes and validation activities. Each node takes on the capabilities of the previous one.
Watcher: simply validate the transactions
Archiver : in charge of publishing data to the archive
Basic Validator: participate intensively in consensus
Full Validator: the highest level of node in the Stellar network
Speed and low costs
In short, the Stellar allows this transition between a currency (the Dollar for example) and another currency (ETH), and the transfer from one account to another. These transactions have a cost, but don't worry: it's only 0.00001 lumen. The total transaction fee depends on the exchange platform, the type of currency and the amount used. Please note that these transaction fees are collected in what is called a pot. They are not redistributed but kept in the Stellar system. The fees incurred for these exchanges ensure that the network is not overloaded by malicious users. These network attacks are known as DDoS attacks. Another formality is put in place by Stellar to avoid saturation: each open account must have a minimum balance of 0.5 lumen.
The Anchors
The speed of transactions is possible thanks to Anchors all included in the Stellar network. Anchors allow to obtain a deposit and to issue a credit of a currency during a transaction. They are institutions that act as banks. The Anchors offer flawless security, so you can entrust your transactions without fear to this interface. A credit is issued when the monetary transaction is completed. When it is the XLM that is exchanged, there is no credit. Another component of the blockchain allows it to function properly: the public ledger, which records each and every transaction made.
What are Stellar Lumens' partnerships?
It is important to know that 20% of the XLMs on the network are given to partners and investors who use or will use the network. After that, these same partners will promote the network to customers and individuals. Partnerships are therefore essential for this cryptocurrency and its evolution. Here are some of Stellar's partners:
IBM
In 2018, Stellar Lumens experienced its first successful partnership with IBM, the large American multinational company focused on computer hardware and software. This partnership has allowed IBM to develop a payment and settlement network called World Wire. This network offers banks to develop their own tokens and use XLMs to facilitate exchanges and transactions. In addition to competing with other cryptocurrencies, this allows Stellar to go public and attract more and more users. This partnership is also with six international banks that will also use Stellar, as will their customers. Through the Stellar network, IBM is currently working with 72 countries, 47 currencies are in circulation with a total of 44 banking terminals.
Deloitte
Deloitte is a multinational company with English rights. It's also a global revenue of $46.2 billion in 2019. On May 3, 2017, the company invested in multiple blockchains including Stellar, in order to support its exchanges on a global scale. Since then, the two networks have been working hand in hand, providing each other with vital resources and help, especially in the speed of transactions.
Stripe
Stripe is an American company that makes internet payments possible for businesses and individuals. The partnership with Stellar facilitates payments on an international scale, using XLM tokens or cash. It is the first major company to be involved in the financing and launch of the Stellar Lumen project. Patrick Collison, Stripe's CEO, was involved in the creation of the SDF (Stellar Development Foundation).
Settle Network
On December 20, 2019, Stellar Lumens invested nearly $3 million in Settle Network. This significant investment then allows this company to expand its network of payment tools. It is the largest IT asset settlement network in Latin America: a more than beneficial investment for Stellar. What attracted Settle Network was above all the possibility of cross-border exchanges and unparalleled speed. This network, to Stellar's great pleasure, favors the exchange of stablecoins. As a reminder, stablecoins are cryptocurrencies created to fight against volatility and protect assets. These stablecoins are linked to fiat currencies or other cryptocurrencies. Both Stellar and Settle Network share the same values, those of a decentralized network accessible by as many people as possible.
Flare
Flare is a network project in direct competition with RippleNet. Its token is the spark, whose acronym is FLR. Launched in December 2020, has decided to integrate Stellar into its system. It should be noted that this is a boon for Stellar since Flare is turning away from Ripple, the original network of the project. Initially, a very large part of the tokens were distributed to XRP holders (from the Ripple network). But little by little, the founders of Flare were seduced by the proposals and objectives of Stellar Lumens. Moreover, the arrival of Flare on the Stellar Lumens network could allow the latter to offer scalable smart contracts. Smart contracts are already used by other blockchains like Ethereum. Among other things, these computer protocols allow peer-to-peer contracts to be verified and validated. This also eliminates a stakeholder that usually complicates the process of these contracts.
The desire to create anchors in every country
SDF, or Stellar Development Foundation, is the company responsible for the Stellar Lumens network. The director of the company, Jason Chlipala, is undertaking to create anchors with several countries. These anchors would enable transactions between a fiat currency and a cryptocurrency. According to him, access to the global financial system is key for Stellar, so supporting these systems is essential. The goal is thus to make strategic agreements with major global banks to internationalize cryptocurrency systems in these banks. Of course, while maintaining the decentralized aspect so dear to the founders of the Stellar Lumens network.
How to manage your lumens (XLM)?
Why and how to use lumens?
So, as you will have understood, Stellar-Lumens is first and foremost about low transaction fees, speed in your exchanges and outstanding security. This network and its currency were created by the founders in order to improve the accessibility of financial services to users all over the world. All you need is a good internet connection to enjoy Stellar-Lumens.
To use lumens, simply create an account by registering on the network. You will automatically receive a minimum amount of tokens, between 50 and 300 lumens. This sum paid represents a total of 50% of the XLMs present on the network. Once the account is created, you will have to start funding it. You just have to deposit a certain amount of money in an anchor point on the Stellar network. As explained above, this anchor point will store this amount converted into lumens to attach them to the network. Then, the conversion will take place, from XLM to another desired currency with a very low exchange rate.
How to get lumens in 2021?
To get your lumens (XLM), several solutions are presented to you. First of all, you can easily exchange your dollars for many XLM on various secure exchange platforms. Compare these different exchange platforms in order to choose the one that best suits your expectations and objectives. This way, you will be able to minimize the transaction costs when obtaining your lumens.
After creating an account on the trading platform, keep your password for maximum security. Using your credit card or via Paypal, you can easily make these transactions in a minimum of time. If you are not a credit card user, no worries! The transfer is another solution to make your purchases. Without bank fees, the transfer is an interesting alternative which nevertheless takes longer. Count on 1 to 2 days for the processing of your transaction. When you buy your XLM tokens with your credit card, the transaction takes only a few seconds. The choice is yours!
Is lumen easy to sell?
Lumen is as easy to sell as it is to buy. The operation remains the same, you just need to have an account on a secure exchange platform while keeping the password used. You can sell your lumens for whatever cryptocurrency you are interested in (XRP, BTC, ETH, LTC…), or fiat money of any currency (dollar, yen, euros, pound…). The transaction is completed just as quickly as when you make a purchase, even on an international scale. The bank charges are on the buyer's account and depend on his payment method. You are free to buy and sell your tokens immediately, in a short time and at a low cost. However, we advise you to regularly observe its price and the factors that influence it before selling your tokens. By doing so, you will optimize the sale of your assets.
What can I buy with lumens?
Lumens allows you to buy other cryptocurrencies and trade with individuals as well as businesses. Very simply, you can make micropayments on multiple platforms, and make everyday purchases. But lumen is much more than a means of exchange, it is also a currency in which it is possible to invest.
Where to store and how to secure my XLM tokens?
As you can see, to buy or sell your tokens, you need to have an account on an exchange platform. However, in order to store them you need to find a secure place where you can draw your tokens and transfer them to these trading platforms. There are several ways to do this, each with its advantages and disadvantages. Moreover, for each of these storage methods, you are the sole holder of the account codes and your private key. Therefore, choose the storage location that suits your needs. Tokens are stored in wallets, a device on which your private key is written and protected.
Online wallets
Online wallets are most commonly associated with the exchange platforms on which cryptocurrencies are bought and traded. Thus, you can easily access your tokens to transfer them without changing tools. These storage wallets have a rather average security capacity, and are not the best solution. Indeed, hacking, which is quite frequent on exchange platforms, will jeopardize your tokens if the private key is stolen. Moreover, the password of your account can itself be cracked, you will then definitely lose all your XLM. You should also take into account that this online wallet is not free, the price varies according to the exchange platform. But don't worry, it's very easy to use, you just need a good internet connection.
Downloadable wallets
These wallets, also digital, are cryptocurrency storage applications adapted to the Stellar. There are actually three that today store your XLM securely: Lobstr, Keybase, Solar Wallet. You can easily download these applications on any digital device of your choice, tablets, smartphones or computers. Fast and convenient to use, these applications are compatible with IOS and Android and make it easy to connect to your accounts. However, these downloads are not the best solution when it comes to security. Indeed, if your device is lost or stolen, there is a risk that your private key is also stolen. In addition to desktop wallets to download, there are mobile wallets that work identically.
Hardware wallets
Hardware wallets are also called hard wallets. It is nowadays the most efficient and secure storage method available on the market. The principle is simple, you just have to keep your private key outside any computer system or Internet. Indeed, you can keep it in a safe at the bank, at home, or write it down. If this wallet is lost or stolen, don't worry, your private key and your tokens are safe thanks to a PIN code generated by you. You can get a physical wallet on the official and secure websites of the designers. All you have to do is enter your PIN code in a safe place to access your account and your tokens.