Temps de lecture :
17
minutes
Today, let's focus on eToro, one of the most famous online brokers! eToro is a broker specialized in social trading. Its platform allows beginner traders to access multiple educational tools, follow more experienced traders and communicate with them. It's a great way to make quick progress in trading and make profits as soon as possible!
eToro also appeals because of the multitude of financial assets offered on its platform: stocks, forex assets, commodities… and several cryptocurrencies! No matter what type of products you choose, you'll have access to the most popular assets of the moment, but also to lesser known assets. This will allow you to easily diversify your portfolio to invest as carefully as possible. The platform proudly announced last month that it currently has 20 million users worldwide!
eToro is a must-have broker that every trader and crypto fan should know!
Intoducing the eToro platform: the leader in online trading
The eToro platform started in 2007, so it's one of the pioneers of web trading! Originally from Israel, eToro has chosen to base its headquarters in Cyprus. This broker first appeared under the name RetailFX. It was co-founded by Yoni and Ronen Assia, two brothers, and David Ring. Today, Yoni Assia is the head of the company. The broker also has offices in the United Kingdom, the United States and Australia.
The eToro spirit : social trading for everyone
eToro stands out from its competitors with its original approach to social trading. From the very beginning, this platform had the goal of popularizing trading in order to make it available to everyone. In order to do this, eToro allows all its members to view and follow other traders' trades and to communicate easily with them. In this way, eToro is suitable for both professional traders and beginners, who can learn and practice by copying the trades of more successful traders. eToro is therefore a united community.
The broker also offers educational content for beginners through its eToro's trading academy, as well as a demo account to practice with before getting fully into trading. eToro also offers various copy-trading tools for new traders.
Financial assets offered by eToro
eToro is very popular among traders, especially because of the diversity of financial products it offers! Indeed, this broker allows you to invest in:
eToro makes it very easy to trade all kinds of products! Instead of limiting yourself to one type of asset or multiplying your trading platforms, you can diversify your investments with ease!
The eToro broker : a regulated and secure platform
eToro is also an extremely reliable broker. Available in over 150 countries, it is regulated by several official stock exchange organizations. This broker only operates in countries where it is legalized. This makes it a reliable broker that also has a very strict security policy.
The regulations imposed on eToro
This broker is directly regulated by CySEC, FCA and ASIC:
eToro has been regulated by CySEC since its launch, for European traders. CySEC or the Cyprus Securities and Exchange Commission is the financial regulatory agency of Cyprus. As a commission of a European Union member state, CySEC is subject to MiFID, the Markets in Financial Instruments Directive, which regulates the markets in financial instruments within the European Union.
In the United Kingdom, this broker is regulated by the FCA, the Financial Conduct Authority, through which it is subject to the FSCS (Financial Services Compensation Scheme) in charge of investor compensation.
In Australia, the ASIC (Australian Securities and Investments Commission) regulates eToro's activities. This agency protects Australian investors, consumers and creditors.
In France, eToro is also monitored by the AMF, the French Financial Markets Authority, which supervises the financial markets, informs investors and ensures the protection of the savings invested in France.
This means that eToro is closely monitored and subject to the regulations in place. This allows it to conduct its business legally and to provide security for its users.
A platform that places security at the core of its concerns
The platform entrusts your funds to reputable banking institutions. All your data and account information is encrypted using SSL (Secure Sockets Layer).
eToro also advises its users to follow several security guidelines to better protect their accounts:
Enable two-factor authentication: entering the password on the platform and then sending a secret code to the user's cell phone.
Have a password dedicated to your eToro account only. Choose a strong password, change it regularly and do not save it on the platform. Do not send it to anyone, under any circumstances.
Always log in directly to https://www.etoro.com/login and not by following an external link.
Regularly scan your computer and remove any virus or malware.
Update your computer regularly.
Finally, eToro applies an information and prevention policy regarding the risks related to financial investments. The broker reminds its users of the precautions to take in order to protect themselves from large financial losses and encourages them to trade responsibly.
Create an account on the eToro platform
The eToro platform stands out from its competitors by offering three different types of accounts depending on the user's profile: novice, ordinary investor or experienced trader. Depending on the account you are offered, you will not have access to the same leverage.
In order to create your account and determine your investor profile, you will first need to register with eToro. This registration is easy, fast and free.
Your three-step sign up at eToro
Signing up with eToro is extremely quick and easy! You can sign up here. All you have to do is follow these three steps.
Step 1: sign up
This step is extremely easy. eToro will ask you for the usual information: name, first name, username, email address, phone number and password. You can then proceed to the second step!
Step 2 : Fill in your profile
eToro will ask you a bunch of questions as part of a legal process mandated by the official stock exchange organizations that regulate it. With your answers, eToro will be able to establish your trading profile by assessing your financial capabilities and motivations. It will also assess your maximum deposit limit, for your financial security.
It is at this step that you will be directed to the type of account that best suits your profile for your financial security.
Step 3 (optional) : Confirm your identity
eToro will offer to verify your identity. Although this step is not mandatory, it will be necessary to lift your payment limit later on. We therefore recommend that you do this step right away so that you can move smoothly on the platform.
Your phone number will be verified with a code received by text message (so you can activate two-factor identification later). Then, eToro will ask you for your ID and proof of address.
The three types of accounts offered by eToro
The eToro virtual account: for a free demo
The virtual account, or demo account, offered by eToro is ideal for beginner traders. The platform will ask you to make a minimum deposit of $200, just like opening a regular account. However, you will then be provided with free service and a virtual fund of $100,000 to practice trading safely. You can simulate trading operations and gain experience before you start trading with your real funds. This way, you can be sure that you won't lose any money!
Once you feel ready, switch to a real account!
The eToro real trading account
After you've gotten your feet wet with the demo version, or right away if you're already comfortable with trading platforms, you can open a real account with eToro. You will then start trading with your real funds. This means you can make profits, but also losses of course, so be careful.
This trading account allows you to benefit from a leverage of up to 1X30. This means that eToro will allow you to invest up to 30 times your capital. This means that you will be able to make much more profit, but you will also be exposing yourself to a bigger loss. The leverage loan from eToro will be returned to them at the end of your trade. So this practice should be used with full knowledge of the facts. The leverage amounts differ depending on the financial product you choose. Here are the current maximum amounts:
x30 for major currency pairs (such as the Euro or the US Dollar)
x20 for secondary currency pairs, gold and major stock indexes
x10 for non-gold commodities and secondary stock indexes
x5 for CFD stocks and ETFs
x2 for cryptos
These maximum amounts are defined by the European Securities and Markets Authority (ESMA). They could therefore be modified in the future.
The eToro pro account: for experienced traders
This account is intended for trading professionals, or at least for members who have had significant experience in the world of finance and trading over the past year. The pro account allows you to benefit from a leverage of up to 1X400. However, professional clients do not benefit from all the protections and safeguards established by the official stock exchange authorities.
You can apply to become a professional client if you meet the requirements. This will allow you to make much greater profits. But, keep in mind that this alternative is also much riskier.
No matter which account you choose or which eToro directs you to, you should know that you will need to make a minimum deposit of $200 when you open your account. Some of the features of your account, such as the maximum deposit limit, may change over time.
All accounts offered by this broker are available on its online platform and on its mobile application. You can easily connect to your account, wherever you are.
trading at eToro
eToro has the advantage of offering several trading packages and several ways to access your accounts. The fees charged by the platform differ depending on the type of assets you choose.
The two types of trading : real buying/selling and CFDs
Real buying and selling of financial assets
No surprise here, this is the most common form of trading. You buy the asset you are interested in and then sell it, hoping to make a profit.
CFD trading
eToro also offers CFD trading, which means « Contract for Difference ». These contracts are offered by brokers who try to mimic the financial markets as closely as possible. You don't actually own the asset, you simply bet on whether its price will rise or fall. The contract has a fixed term. When it closes, you trade the difference between the entry price and the exit price with your broker. If your prediction about the direction of your asset's price was correct, you earn the difference. If your prediction is wrong, you lose the difference to the broker.
CFD trading is available on all products offered by eToro.
The above mentioned leverage effects are applicable to CFD trading.
eToro commission fees
This platform does not charge a deposit fee. Withdrawal fees are set at $5 and the minimum withdrawal amount is $30.
The conversion fee is a minimum of 50 pips (« Percentage in point »).
An inactivity fee of $10 per month is also applied after 12 months of inactivity.
For stocks and ETFs, the eToro broker does not charge any commission, whether on management, ticket or rollover. You can proceed with your trading with complete peace of mind.
For products traded in CFDs, they are subject to the spread, i.e. the difference between their purchase price and their sale price. For currencies, commodities and indexes, they are counted in pips. For stocks and cryptos traded in CFDs, a simple percentage is charged. The amounts differ depending on the product. Visit eToro's website for details on CFD spreads.
eToro platforms
eToro offers you two interfaces for trading: its website and mobile app. This way you can easily access your account wherever you are. All eToro services are available in 20 languages.
The web platform
This platform is very intuitive, simple but complete. The design is rather pleasant. The menus are very well ordered. The platform consists of three sections: « Invest », « Search » and « More ».
In the « Invest » section, you will have access to your portfolio, your news feed and your favorites. This way you can easily follow your favorite assets.
In the « Search » section, you will first find the « Markets » tab, which is the home page of the trading platform. Here you will see the status of the featured markets, as well as the most popular assets divided into categories. There is a menu at the top with the different categories mentioned above (Stocks, ETFs, Crypto, Indices, Commodities and Currencies). A search bar is also available, so you can directly search for the asset or company you are interested in. This search bar is predictive. Finally, it is possible to add filters to your search.
Below « Markets » you will find the « People » tab. This is where you will have visibility into other traders on the platform. The site highlights the « Editors' Choice » and then traders are sorted by categories « Most Copied », « Long Term Stock Investors », « Multi-Strategy Investors », etc. You can search for traders according to their country of origin, type of investment and percentage of gain over a given period. It is also possible to apply additional filters to your search.
In this section you will also find the « CopyPortfolios » feature, also sorted by category.
Finally, the last section « More » allows you to access the eToro club or to invite friends. You'll also find the help center, perfectly organized.
So it's extremely easy to find your way around the online trading platform offered by eToro. Everything is in its perfect place and the user has a lot of ease to find what he is interested in as quickly as possible.
The mobile app
eToro has also launched its mobile app, available for free on Android and iOS. This app has exactly the same features as the web platform, but adapted into a mobile version. This means that you can easily access your eToro account wherever you are.
This app has been voted « best beginner trading app » and « best social trading app » in 2021 by other media that specialize in analyzing the crypto world.
The website
In addition to these two platforms, we should also mention the eToro website. This website is extremely well designed and comprehensive. The visitor will find absolutely all the information related to eToro, whether it's about the products it offers (financial markets and account types), its services (copy-trading, eToro's trading Academy…), its commission fees, the team behind this broker, etc. eToro displays a perfect transparency to its visitors
You will also find a multitude of articles about trading, assets available on the platform or financial news. So the website is extremely well organized! As with its trading platforms, eToro has perfectly organized the information in its various menus and tabs. There is also a search bar. We invite you to take a look at it if you have any questions. You're bound to find the answer!
eToro's tools for social and educational trading!
eToro is the undisputed master of social and educational trading. This platform presents itself as a true social network focused on trading, where each user has his own profile and can post information related to different financial assets or comment on other users' posts. This broker also offers many tools and features aimed at helping and training novice traders. Remember that you can have a demo account to take your first steps in trading with eToro. But there's more! You can copy the best traders on the platform at no extra cost! The platform has a lot of surprises in store for its users, which you can find listed below.
The eToro's trading Academy
eToro offers its novice traders training through eToro's trading Academy! Several tools are available there.
First of all, eToro hosts a number of online seminars or « webinars » that are broadcast live. Beginning or experienced traders can sign up for training on how to use the platform and relevant trading tips!
The platform also offers eCourses on financial trading, allowing beginners to understand the mechanics and intricacies.
Finally, eToro provides its student users with e-books, instructional videos, PowerPoint and PDF files on trading, so that they can learn at their own pace.
CopyTrader
CopyTrader is eToro's most popular feature. It's a Copy Trading tool that simply allows you to copy the platform's top traders by replicating their investment choices in your portfolio. This feature is particularly popular with eToro's novice users. All traders need to do is to find a more experienced trader with a similar or simply interesting investment strategy and follow their trades. When they make a new trade, click on « Copy » and your portfolio will replicate their trade. Nothing could be easier!
This service is completely free and traders selected as role models are compensated by eToro through its Popular Investor program.
CopyPortfolios
eToro's CopyPortfolios feature will offer you several portfolios to copy according to your investment strategy. You will be able to select the one you are most interested in and indicate the amount you wish to trade.
eToro offers three distinct types of CopyPortfolios:
Top Trader CopyPortfolios: You'll be able to choose from portfolios of the best traders in the eToro community.
Market CopyPortfolios: These portfolios contain stocks, commodities and EFTs that fit a set trading strategy.
Partner CopyPortfolios: The platform also offers portfolios from its top financial analyst partners. Currently, eToro offers copy portfolios from Wequant, TipRanks and Meitav Dash.
If you choose this option, your capital will be managed by eToro's investment committee and rebalanced as needed.
This type of CopyPortfolio can be very interesting for your crypto investments. eToro actually offers a CopyPortfolio dedicated to strategic cryptocurrency investments!
eToro Popular Investor
This program is designed for experienced traders who want to share their portfolios, tips, strategies and forecasts with other members of the eToro community, via CopyTrader or CopyPortfolios. In exchange, these traders receive benefits, exclusive privileges and are compensated by the platform.
To be eligible for the Popular Investor program, eToro traders only need to show very good returns with low risk, that's all! If you're good at it and your trades quickly meet these two criteria, you too can join the Popular Investor program to share your trades and get paid for it!
The eToro community
The eToro platform also offers its traders to communicate with each other through a collaborative space. Each trader, regardless of their level, has a public profile. This means that other traders have access to their strategies and investments. In this way, traders can share their strategies, their best investments and learn from other traders. Naturally, experienced traders will serve as an example to beginner traders.
They can also post information related to an asset and like, comment or share other members' posts, just like on any other social network. This feature stems from the social trading policy at the center of eToro's spirit.
Articles available on the website
Finally, eToro shares many articles in a blog-like style. These articles are available on the website, not on the trading platform, so they are accessible to everyone. You'll find them in the « Education » section of the main menu, under the « News & Analysis » tab.
Readers will find a wide variety of articles on the various financial markets, as well as on world news and its impact on the economy. eToro also offers articles on the outlook for the financial market. We recommend the « Local Market Outlook » section where you'll find a weekly analysis of the different markets in the French territory!
With all these tools, eToro is truly revolutionizing trading. Originally invested in by a financial and economically educated elite, eToro has taken on the challenge of making trading an activity accessible to everyone from now on. Its members can trade at their own pace and according to their own knowledge, no matter what their level is, since the most novice can rely on the most experienced ones at all times!
Buying cryptocurrencies on eToro
Among the many financial products available for trading on eToro, you will of course find several crypto-currencies! In fact, this platform currently offers you 16 different cryptos to buy or sell, including the market leaders. Its offering is growing over time. The eToro team is convinced that all financial assets will be tokenized in the future and that crypto-currencies are just the first step in this big change. Therefore, this broker is constantly working on expanding its offer.
We also remind you that eToro offers a CopyPortfolio especially dedicated to crypto assets! This makes it an extremely interesting platform for crypto enthusiasts and novice investors will be able to benefit from eToro's CopyTrading tools just like any other asset.
The crypto marketplace at eToro
Here is the list of cryptos currently available on eToro:
BTC (Bitcoin)
Ethereum
BCH (Bitcoin Cash)
XRP (Ripple)
DASH
LTC (Litecoin)
ETC (Ethereum Classic)
ARDA (Cardano)
MIOTA (Iota)
XLM (Stellar)
EOS
NEO
TRX (Tron)
ZEC (ZCASH)
BNB (Binance Coin)
XTZ (Tezos)
In Europe, eToro only applies buy/sell trading for crypto-currencies. Its users acquire ownership of the cryptos they trade! Users subject to the Australian Securities and Investments Commission (ASIC) are limited to CFD trades.
You can do your trading on simple cryptos, but also on currency pairs as for Forex assets. These currency pairs can combine a crypto and a fiat currency, but also two cryptos between them!
When you click on the crypto, or currency pair, that you're interested in, you'll get the latest information about that asset. You'll get a graph of the price of that currency over the last few months, but also the public discussions of eToro users on the subject, just like a social network like Facebook or Twitter! You'll see their posts on the subject and the comments of other users. Then you'll find a « Statistics » tab with an interactive chart of the price of that crypto or selected currency pair and a detailed explanation of the asset. Finally, the « Chart » section gives you access to a giant interactive chart. If you're interested, you can click on « Invest » in the top left corner, to start trading this crypto! (This setup is shared by all the assets offered by eToro).
Once you've purchased your cryptocurrencies, you can send them directly to your crypto wallet and it's done!
Spreads applied on cryptos
eToro charges spreads on crypto currencies, which is the difference between the buying and selling prices of an asset. These spreads take the form of percentages as crypto is an asset with an extremely volatile price. These fees depend on the crypto currency chosen.
Here is the list of spreads applied by eToro depending on the crypto: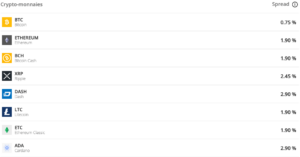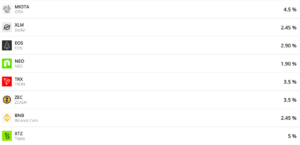 Source : eToro.com
The eToro X wallet
eToro offers its own wallet service, or crypto wallet, for some of its users.
The eToro wallet is one of the only regulated crypto wallets. You will be able to transfer your crypto capital from your eToro account to your wallet. It is a hot wallet, which means it is an online wallet. It is therefore connected to the internet. eToro X is also available for free as an Android or iOS application.
This wallet is secure and seems to be very appreciated by its users. eToro X has a two-factor authentication system. It also offers a multi-signature system for storing your private keys.
eToro categorizes its users as bronze, silver, gold and so on. Not everyone has access to the same features on the broker's wallet.
Our opinion on eToro
So should you use eToro as your online trading solution? Judging by the features of this platform, we would have to say yes right away. Nevertheless, let's proceed with a recap of the pros and cons of this platform so that you can make an informed choice of online broker.
eToro's pros
The first and foremost advantage of eToro is its level of security. This broker is regulated by the official stock exchange organizations, so you are not entrusting your precious capital to a broker that came out of nowhere. Its platform also guarantees high security for your data and transactions. With it, your funds will not be in danger.
Its second advantage is its open policy. eToro is a platform that is accessible to everyone and allows beginners to take their first steps with confidence and to catch up quickly thanks to its many educational tools, offered by the eToro's Trading Academy or its demo account, and its copy-trading features. CopyTraders and CopyPortolios are among the best copy-trading tools on the market. The community aspect of eToro, which tends to make it easier for beginners and advanced traders to get in touch with each other, is also very nice. eToro has fully succeeded in its social trading bet!
Another extremely important aspect for traders is that eToro offers a wide variety of financial assets on its platform! You'll find a wide range of financial products: stocks, Forex assets, crypto-currencies, commodities, stock indexes and ETF crackers. Each of its categories offers a multitude of different assets, including the most popular ones on the market, so eToro makes it easy to diversify your investments!
The platform also offers quick and easy transfers. It accepts many different payment methods, including credit cards and PayPal. Transfers are fast, instant and secure.
Finally, eToro is a fun platform to use. It is available in 21 languages, so users from all over the world will love it. Its design is simple and its website is intuitive. This broker also offers a mobile application that includes all the features of the website. This application is available for free on Android and iOS.
eToro's cons
Like any product, eToro has its cons, but they are minimal and quite common.
The biggest pet peeve of eToro seems to be, in the eyes of users, its customer service. The platform doesn't have an online chat service, nor does it have a help line, which is surprising to its members considering the size of this broker. Instead, you will find a FAQ that, it must be said, shines by its density and ease of use. If you have a problem, you will be left to your own devices, but you should still easily find the answers to your questions. If you really can't find the solution to your problem, don't panic! You can request to be contacted by customer support. eToro commits to process your request within 48 hours. However, requests are processed on a first come, first served basis, so you may have to wait for a while if your customer service is busy.
The other disadvantages of eToro are much more common. This platform does not allow you to change or cancel your trades, as most other platforms do. eToro also charges fairly high spreads. But, these are the only fees the platform will charge you for trading your cryptos. Finally, as with all platforms, if you lose access to one of your crypto-currencies, it will be absolutely impossible for you to get it back. eToro will not be able to do anything for you.
Conclusion: is eToro a reliable broker?
eToro is undeniably a reliable online broker that will meet the expectations of its investors, regardless of their experience. The social aspect that eToro has been able to give to trading is very appreciable and this broker succeeds brilliantly in its challenge of offering retail investors the possibility of trading like the pros!
When it comes to crypto-currencies, the choice offered by eToro is, admittedly, far from exhaustive. But, this platform still offers the most popular cryptos. The special crypto CopyPortfolio is great for crypto beginners. Offering your own crypto-wallet is also an appealing feature of the platform.
Regarding its cons, most of them are common to many trading platforms. On the other hand, an effort should be made regarding its customer service. Nevertheless, compared to the many advantages offered by the platform, these drawbacks seem minor. We therefore advise you to create your eToro account to start trading your cryptos.