Temps de lecture :
18
minutes
ChainLink is a decentralized oracle network based on the Ethereum blockchain. This network was the first to emerge, in 2017, to offer an oracle service to smart contract users. With its decentralized oracle network, ChainLink has been able to solve the reliability issues typically faced by oracle users.
Today, ChainLink has risen to the 11th largest cryptocurrency in terms of market capitalization. Despite the lack of communication around the project, it is undeniably one of the leaders in the oracle service. Its upcoming development on other blockchains should cement its place as a market leader.
Key figures of ChainLink, the first decentralized oracle network
ChainLink to USF Chart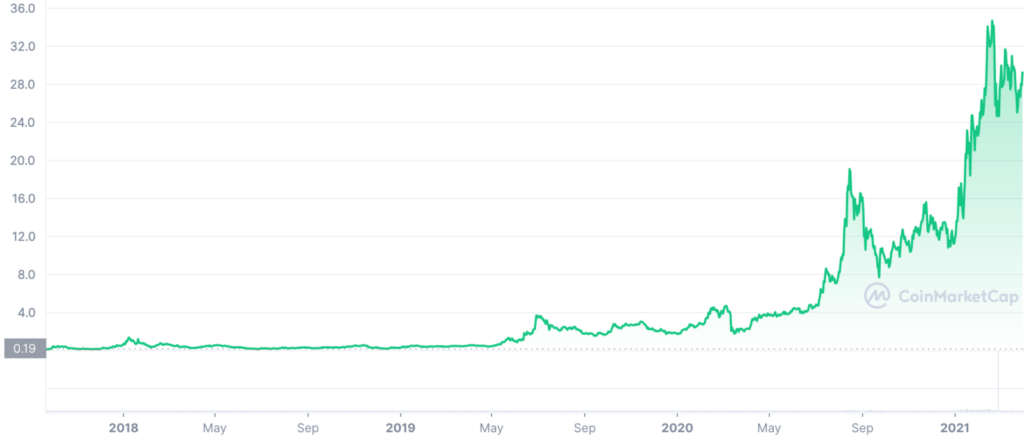 Source : Coinmarketcap.com
ChainLink's current price
Currently, ChainLink's LINK token is trading at a price of 28.15 dollars. The price of this cryptocurrency has been steadily rising since last week. ChainLink has been on an upward trend since the end of 2020, following the path of the leader Bitcoin, which is carrying the majority of cryptocurrencies with it.
ChainLink ranks 11th among cryptocurrencies with a total market capitalization of $5,275,971,705. 467,009,550 LINK tokens are currently outstanding.
ChainLink's history and LINK's stock price history
ChainLink is a decentralized oracle network launched by the company SmartContract.com in 2017. This company, founded in 2014, was working on a solution to enable a connection between smart contracts and any programming interface or other data source. This company initially proposed a centralized oracle solution. However, this centralization left room for fraud and SmartContract.com found itself totally dependent on its oracles. So ChainLink was born in September 2017, after an ICO that raised $32 million in exchange for 1 billion LINK tokens, representing 35% of the total tokens created by ChainLink.
2017 : ChainLink's token began trading with a price tag of 15 cents. In October, it reached 47 cents, only to quickly fall back below 25 cents, which it did not exceed until early December. Finally, the LINK ended its first year at a price of 58 cents.
2018: ChainLink started 2018 very well as its price hit an annual high of 1.37 dollars on January 10. Unfortunately, the LINK price quickly fell back and eventually fluctuated between 20 and 50 cents for most of the year. The price reached 17 cents on June 24. It rose to 58 cents on November 14, only to fall back just as quickly. It finally ended the year at 29 cents.
2019: 2019 has been a pretty good year for ChainLink as its stock price went over the 1 dollar mark in June, never to fall below it again. This rise was due to the announcement of a cooperation between ChainLink and GoogleCloud on Twitter. The young cryptocurrency will then experience its first record at 3.70 dollars on June 30, thanks to its listing on the Coinbase platform, one of the market leaders. It will gradually come back down, but will always remain above the 1.5 dollar mark. It will benefit from a new rise in November, reaching 3.1 dollars on the 14th of the month, to finally end the year at 1.77 dollars.
2020: The year 2020 has been spectacular for ChainLink's share price. The price of its LINK token rose steadily until it reached a price of $4.54 on February 19. ChainLink's price then fell slightly, but rose to $4.72 on March 5, only to fall back below $2. The price fluctuated timidly between 3 and 4 dollars from April to July. On July 7, China activated its national network, the Blockchain Service Network (BSN), and announced that 135 of its nodes were integrated into the oracle ChainLink network. This announcement caused ChainLink's share price to rise dramatically. On July 17, it reached a first peak of $8.64, and then a second peak on August 16 at $19.1! This was its yearly high. Eventually, ChainLink entered a downward trend until October, when its price fell back below $8. ChainLink then benefited from Bitcoin's upward trend, but did not exceed 15.62 dollars. The LINK ended the year 2020 at a price of 11.27 dollars.
2021: The year 2021 has started very strong for ChainLink, whose share price is experiencing an upward trend. On February 14, it reached an all-time high of 34.83 dollars per token. Since then, the LINK price has fluctuated around the 30 dollar mark, without ever falling below the 22.5 dollar mark.
ChainLink's stock market listing
What factors influencee ChainLink's price?
The price of ChainLink's LINK is influenced by multiple factors, common to all cryptocurrencies.
Crypto-currencies are all extremely volatile due to the many factors that continually influence them. Their prices are likely to rise or fall in a matter of hours at the drop of a hat. It is therefore important for any investor to be aware of these key factors and to monitor them. Here are the main influencing factors that drive the price of cryptocurrencies like ChainLink:
Trends in the cryptocurrency market
The prices of different cryptocurrencies generally follow the same trends on the stock market. When a cryptocurrency gains popularity, the entire market benefits. Investors don't want to bet all their capital on the same security, so they look to its peers, which gain new buyers in turn. The same is true when the price of a cryptocurrency collapses for any reason.Buyers become suspicious and all other prices fall in turn. Obviously, the most powerful crypto-currencies are leading the way, with the Bitcoin giant at the top. That's why ChainLink's price has been on an upward trend since late 2020, just like Bitcoin.
If the price of a young, little-known cryptocurrency collapses, its fall may have very little impact. But if Bitcoin's price falls, it may take all altcoins with it.
The supply and demand concept
ChainLink, like any publicly traded stock, is subject to the rules of supply and demand. The concept is extremely simple. The price of its LINK decreases when supply exceeds demand and, on the contrary, it increases when demand exceeds supply. In other words, the easier it is to find LINK (supply exceeds demand), the cheaper it is to buy. Conversely, the more scarce LINK becomes (demand exceeds supply), the higher its market price.
ChainLink's reputation among the crypto community and the public
The reputation that a crypto-currency enjoys within the crypto-community, but also with the general public, can significantly influence its price. Indeed, a crypto-currency that receives only extremely positive feedback from its users, offers interesting projects in the long term and attracts the curiosity of large companies, usually attracts many investors. Therefore, its price is likely to rise.
On the contrary, some cryptocurrencies with a rather gloomy reputation, because they are used on the darkweb for example, or that do not meet their development goals, are likely to see their prices fall.
ChainLink and its LINK will have to live up to the expectations of the public if they want to maintain their current position as the 11th largest cyptocurrency, or even climb the ladder.
The welcome given by Governments to cryptocurrencies
Cryptocurrencies remain for now outside the control of governments. Nevertheless, their growing existence and importance will necessarily provoke attempts at legislation. South Korea was the first to announce, a few years ago, its willingness to legislate on Bitcoin.
Many countries are also talking about adopting their own crypto-currencies. One can imagine then that they will try to prevent the development of non-governmental crypto-currencies, in which case their prices will collapse in a short time. In the case of South Korea, rumors that it wanted to ban the buying, selling, storing and mining of Bitcoin (BTC) on its territory, had caused a fall in the Bitcoin price.
The price of ChainLink's LINK will therefore also depend on the willingness of public authorities.
The ChainLink network evolution
This is the only factor on which ChainLink has any real control over and, inevitably, a great responsibility. The evolution of its LINK price will depend on the evolution of the ChainLink network itself. Cryptocurrencies are constantly evolving and some of them are very dynamic and responsive, always offering new solutions and improvements.
ChainLink's ability to renew itself, match and surpass its competitors and stand out, will obviously influence its LINK price. Investors generally like to track the progress of their crypto-currencies by comparing them to the announcements made on the roadmap. The new features on ChainLink's roadmap will have to appear in time and live up to the expectations of its users. Its stock price will be largely influenced by their success or failure.
ChainLink's forecasts and future
ChainLink's share price forecast is looking pretty good at the moment. Analysts expect ChainLink to rise in 2021.
Tauxde.com expects ChainLink's share price to rise throughout the year, with an average year-end price of $43.20 (€41.04) per token in 2021. ChainLink's share price is expected to fall in July to $28.83 (€27.39), and in October to $32.10 (€30.50). However, it will rise again the following month. For December 2021, this analyst forecasts a minimum price of 37.24 dollars (35.38 euros) and a maximum price of 46.22 dollars (43.91 euros). This upward trend is expected to continue until June 2022, when the average price is expected to be $68.35 (€64.94). ChainLink's share price would then enter a bearish phase with an end of year 2022 average price of USD 39.00 (EUR 37.05).
Tradingbeasts, on the other hand, predicts a steady, but much less spectacular rise. The average price of a LINK token would be $23.978 for April 2021, or 20.43 euros at current exchange rates. ChainLink's price would then begin its upward trend to reach an average price of $26.599 (or 22.66 euros) in December. Its expected minimum price is $22.609 (19.26 euros) and its maximum price is $33,249 (28.33 euros). This upward trend is expected to continue throughout 2022 with an average price of $31.508 in December, or 26.84 euros at current exchange rates.
So these numbers are extremely different, but no spectacular drop is expected for the moment, which is good news! Nevertheless, we remind you that since cryptocurrency prices are extremely volatile, it is impossible to really predict their evolution. These calculations are based on historical prices and current trends, they do not take into account future events. So stay extremely cautious if you want to invest in ChainLink or any other crypto-currency!
All about the ChainLink network
Why was ChainLink created?
ChainLink was created to connect the on-chain world, meaning what happens on the blockchain, with the off-chain world, meaning what happens outside of it. This connection allows ChainLink to offer its users an oracle service for their smart contracts.
In the real world, contracts are signed through intermediaries. These intermediaries make transactions more expensive, by imposing their commissions, and the application of contracts more subjective since human beings are in charge of verifying their terms. Smart contracts make it possible to do without these intermediaries. The elaboration of these contracts and their follow-up are done on the blockchain. The contract then executes itself. This process, by removing the human intermediary, saves time and money.
However, some of the data needed to enforce the contract may be missing, as the contract actually only has access to the data already present on the blockchain. In the real world, the human intermediary would be in charge of collecting the missing data, but he is no longer available here. It was therefore necessary to create a system allowing the collection of this data outside the blockchain. This is how the oracle system was born, to allow their gathering. ChainLink is a decentralized oracle network offering this service.
What is the purpose of oracles and ChainLink in particular?
The oracles optimize the smart contracts by looking for missing data externally and taking care of its input into the blockchain. ChainLink provides this oracle service to smart contract users. But its network has a particularity: it is the first one to use independent oracles.
ChainLink relies on a decentralized oracle network. When a user makes an oracle request, ChainLink looks at all oracles on the Ethereum blockchain. This independent oracle system gives ChainLink much more freedom and also allows for control of the information. A centralized oracle system makes the network dependent on its oracles, which can introduce false information to the network. ChainLink, by turning to various oracles, multiplies the sources of information. Its network then synthesizes all the results and sends the most accurate and precise answer possible to the user who made the request.
ChainLink bases its system on reputation. Oracles are rated and paid in LINK. Thus, oracles that have been recognized as reliable sources and offering interesting data will be introduced on bigger contracts and can earn more LINK. On the other hand, oracles that have been rated poorly because they have been found to be malicious after introducing false information will suffer a significant loss of earnings. In addition, they will no longer be selected because of their poor rating. This system ensures the reliability of the oracle service offered by ChainLink.
How does ChainLink work?
The ChainLink network consists of two infrastructures: one on-chain and one off-chain. The token developed on its network is the LINK. It is an ERC-677 token, based on the ERC-20 tokens used by the Ethereum blockchain. Thus, its token can evolve on all networks supporting the ERC-20 token. The LINK token powers operations on the ChainLink network and rewards operators for providing data during oracle requests.
ChainLink's on-chain network
ChainLink's on-chain network is deployed on the Ethereum blockchain and consists of a smart contract and, more precisely, an « oracle contract« . This oracle contract is actually realized in three steps, each based on a different contract:
First, the oracles selection, which is done thanks to the reputation contract. This contract allows to verify the quality and the intentions of the oracle's supplier. This verification is done according to criteria previously established by the user. Once this verification is complete, the oracles can be selected either automatically, by ChainLink, or manually, in which case it will be the user himself who will select his oracles.
Secondly, the transfer of the received data to the user, which first goes through the order-matching contract. This contract allows the price to be negotiated between the requester and the information provider. Once a common ground is found, the transfer takes place.
Finally, the results are received with the aggregating contract, which compares the information provided by the different oracles to select the most relevant ones. When several results are different, ChainLink balances the values.
It is through this oracle contract that ChainLink users will be able to obtain information that is outside the chain, i.e. off-chain. In order to launch a search and activate the oracle contract, ChainLink users must first launch a « user contract« . ChainLink will treat this user contract as an oracle request for which it will initiate its oracle contract procedure.
ChainLink's off-chain network: how the oracle service works
The off-chain network is based on « oracle nodes » that are located on the Ethereum network. When these nodes are requested by the oracle contract, they launch their search. This is based on three steps: collection, processing, and transmission.
The data collected is processed through the ChainLink Core, which is the central node of this system. Once this data has been processed, the ChainLink Core proceeds to send it via the oracle contract. The operators behind the selected oracles then receive LINK tokens for their work. These operators are also graded on the quality and reliability of the data they brought in. The higher their score, the more likely they are to be selected to answer oracle requests on large contracts, and thus earn more LINK. This opportunity is driving developers to offer « external adapters » on the ChainLink network. These adapters would allow operators to provide more accurate and interesting data to oracle requests, thus increasing their earnings. If one of the operators tried to provide false information, either for his own benefit or because he was paid to do so, he would receive a negative rating which would prevent him from receiving new contracts. He will also be exposed to a financial penalty. This method is an effective deterrent against fraud and ensures the reliability of information.
For now, the ChainLink network is deployed on the Ethereum blockchain, but it will eventually be able to launch its searches on all other blockchains.
Choose ChainLink as an oracle network?
Using an oracle network to perform and track your smart contracts can be crucial. Thinking of ChainLink to perform this service may seem like a safe option since it was the first decentralized oracle network to be launched. Therefore, it has some experience and its network is supposed to be a model of reliability. So what are the pros and cons of ChainLink?
The ChainLink network pros
ChainLink allows the acquisition of information outside the blockchain in a simple way thanks to its decentralized oracle network. The user wishing to launch an oracle request can customize it by setting criteria for the choice of oracle(s). Finally, ChainLink performs a value balance when its network receives different responses to an oracle request. This ensures that oracle requests are answered as accurately as possible.
It is also a secure solution thanks to the rating system that dissuades any operator from transmitting false information to the network during an oracle request. You can therefore trust it to optimize the monitoring of your smart contracts.
Its network is currently deployed only on the Ethereum blockchain, but it is intended to be universal. ChainLink should therefore be able to be used on all blockchains in the future.
The ChainLink network cons
The major drawback of the ChainLink network is the distribution of these tokens. Only 35% of ChainLink's LINK tokens were sold to the public in the 2017 ICO. That leaves 65% in the hands of its creators and some network operators. This distribution ultimately makes it a fairly centralized cryptocurrency.
The second problem of ChainLink is certainly the lack of communication the project suffers from; both in terms of its activity and future development, and from a marketing point of view. This makes it a network that is still little known despite its effectiveness.
Finally, today ChainLink is facing a dynamic competition, which seems to be moving much faster than it is. Moreover, the lack of communication from its team does not allow us to glimpse their feelings towards this competition and their plans to counter it. Investors generally like to keep track of their cryptocurrency. In this case, don't expect a team that will share every little breakthrough or new idea with its community.
How to manage your ChainLink LINK tokens?
How to get ChainLink tokens in 2021?
ChainLink LINK tokens are available for sale on cryptocurrency exchange platforms, such as Kraken, Binance, Coinbase, etc. You can conduct your transactions securely there.
You will have to create an account and the platform will proceed to an identity verification. Generally, the platforms will ask you for a valid ID, as well as a picture of you holding said ID in your hand. You will also need to choose a password. Think about security! Choose a highly secure password and keep it safe.
Then go to the purchase section! You'll find that transaction fees and payment methods differ from site to site. Kraken, for example, only accepts bank transfers. However, its platform applies a 0.16% commission for transactions under 50,000 dollars, which is among the lowest on the market! Kraken can therefore be a very interesting platform for investors wishing to convert large sums of money into cryptocurrencies. On Coinbase, the commission is different depending on the payment method used. Here, credit cards and bank transfers are accepted! Count a commission of 1.49% on the amount of purchases made by transfer and 3.49% on those made by credit card. Some platforms also allow SEPA transfers and direct debits, which we advise you to use if you are in Europe.
A wide range of exchange platforms exists. It's up to you to compare and choose the platform that suits you best! As for your bank, the good news is that it will not charge you any fees to make your purchases.
How to store and secure your ChainLink tokens?
Once you have purchased your tokens, there are several storage options available to you. You can simply leave them on the buying platform, but this solution is risky. If there is any problem with the platform, you could lose all your capital!
The most secure solution is still to choose a cryptocurrency wallet. You can choose to keep your precious LINK in several types of wallets. There are two main families: « cold wallets » and « hot wallets ». Beware, not all wallets support all crypto-currencies. Check carefully that your LINK tokens are compatible with the solution you choose.
Cold Wallets: the « off-line » solution
Cold wallets are wallets that allow you to store your cryptocurrency without any contact with the internet. These wallets have the advantage of avoiding any attack from online hackers. This is undeniably the solution to choose if you have large amounts of cryptocurrency. If you choose this storage solution, you have two options:
Hardware wallets. They ensure your anonymity and high security of your assets. These wallets come in the form of a USB key. No internet connection is required with them. They keep your private keys away and allow you to conduct your transactions offline. Therefore, you will not be able to have your crypto-currencies stolen by connecting to the internet. Nevertheless, take great care of your wallet. Its loss or damage could cause you to lose all your capital. You should also know that not all hardware wallets have the same features. So compare them before you buy one, and remember to make sure it will work with your ChainLink tokens! Indeed, not all wallets support all crypto-currencies!
Paper wallets. These wallets are actually a single sheet of paper with a private key and address printed on it. To create your own paper wallet, go to a ChainLink-compatible paper wallet generator. Some sites allow you to download their generator and then create your wallet offline. This solution is to be preferred if you really want a « cold » security, i.e. far from the Internet and hackers!
Hot Wallets: the online solution
Hot wallets are wallets connected to the internet. They have the advantage of generally offering speed and simplicity. However, they also offer much more opportunity for hackers, so forget about them if you have chosen to invest in ChainLink on a large scale.
Web wallets. They allow you to manage your funds quickly. The operation of web wallets is quite similar to exchange platforms, you will have to create an account. However, here you remain in control of your private keys. These wallets are certainly the most vulnerable. But some platforms, considered as references in the field, assure you a very high security thanks to regular updates and controls.
Browser extensions. It is possible to download a browser extension. Several extensions exist depending on your browser and the blockchain you want. These extensions communicate easily with the decentralized network of the blockchain. However, they do not all verify transactions, so beware of hackers and scams.
Desktop wallets are also an online storage solution, but they are aimed at experienced users. These softwares must be installed on a secure device (your server, desktop or smartphone for example). They keep your keys private. You will have more autonomy than with a web wallet, but also more responsibilities. Two types of desktop wallet exist.
Full nodes. Full nodes are a copy of the blockchain. They are used to confirm new transactions and register them on the blockchain. Having a full node allows you to have a history of all the transactions on the blockchain, including your own. You thus have proof of your token capital on the blockchain in question. Nevertheless, this alternative is very technical and is not for beginners. Unlike wallets in which you can store different assets in the same place, here each complete node uploaded will be dedicated to a blockchain.
Lightweight wallets. Also called « SPV wallets » for « Simplified Payment Verification », these wallets do not download the entire blockchain. This makes verification quicker and easier. They communicate easily with the nodes of the blockchain. There are several types of lightweight wallets, some are dedicated to a single cryptocurrency, others support several. Similarly, you can find lightweight wallets for mobiles, others for computers, etc.
How to sell your ChainLink tokens?
Want to sell your ChainLink tokens? The process is extremely simple! Go back to the cryptocurrency exchange platforms, which are also used to buy cryptocurrencies. These platforms allow you to buy, sell and trade cryptocurrency! All you'll need to do is log in to your account or create a new one if you're switching platforms at the time of the sale, which is absolutely fine.
Then log into your cryptocurrency wallet to access your LINK tokens from ChainLink. Go back to the exchange platform, then in the sale section choose LINKs. Then generate a new address. It is important to request a new address for each transaction. This improves privacy and security. In your wallet, go to the send section and enter the address that was generated by the platform. Enter the amount of LINK you wish to trade and complete your transaction. Your valuable ChainLink tokens should have been credited to the platform. You can close your wallet, you will not need it anymore.
In the menu of the selling platform, now choose LINK/USD (or any other currency). Once on the trading page, choose « sell » and indicate the amount of LINK you wish to trade. You can either sell immediately at the market price or specify a limit price. Your sale will then take place automatically as soon as the ChainLink price reaches the specified price. You can then confirm your transaction. In the case of a sale at the market price, you will see your account credited immediately in dollars on the platform.
To withdraw this capital from your account, simply go to the « Withdraw » section. As at the time of the sale, transaction fees will be applied by the platform. The amount of the fee will be indicated to you before you validate your transaction. Then, fill in your bank account (you can save it for the next time) and confirm the transaction. Your money should appear in your bank account within a few days. The delay may vary depending on the amount of your transaction and the platform used.
Lost access to your ChainLink tokens?
Regardless of the cryptocurrency, you will not be able to access your capital if you have lost your access codes. If it's only the password to your account on the trading platform where your precious ChainLink tokens are located, you can try to contact a specialized service to crack your code. This solution is rarely successful, but it is the only one available to you. However, if you have lost your private key, you can simply say goodbye to your LINKs. There is absolutely no way back. In case of a hack, there is no protection, insurance or guarantee. If the hackers take all your funds, you will never see them again.
The security of your tokens is therefore essential, never underestimate this aspect. Keep them in a safe place, choose off-line solutions for large amounts, choose highly secure passwords, never save them on your devices… The paper option remains the best solution. Your passwords will be far from any hacker. But, of course, keep your paper safe and do not lose it! Obviously, don't put your access codes on a post-it note for everyone to see. Don't leave your paper crypto wallet sitting in the middle of your desk either! Those who prefer the paper solution generally place their precious passwords in a safe, out of sight.
Cryptocurrencies offer us many advantages: decentralization, autonomy, anonymity, etc. But also, much more responsibility. You are alone in front of your capital and you have no possible legal remedy in case of problems! So be very careful and stay vigilant at all times.
.
Our opinion on ChainLink
ChainLink is in our opinion a must-have network for smart contract users on Ethereum, at the moment. ChainLink efficiently relays information between the outside world and the blockchain, so its network will allow you to benefit from an efficient oracle system. Moreover, and this is its major attraction compared to its competitors, ChainLink is one of the few networks to offer a decentralized oracle system, which allows it to ensure the reliability of the information transmitted to its users. So if you want to get into smart contracts, we recommend Ethereum and the ChainLink network for your oracle requests.
We hope that ChainLink will soon be launched on other blockchains, as its founders plan, so that all cryptocurrency users can benefit from it if they wish.
Should you invest in ChainLink LINK?
From a strictly stock market perspective, the LINK tokens look like a very promising currency to invest in. Their price is quite reasonable, and forecasts for the coming months and years all point to an increase in price at the moment. Nevertheless, many investors are denying themselves the opportunity to acquire LINK tokens. So why this boycott of ChainLink?
The criticism of ChainLink concerns the distribution of its tokens. Only 35% of them were sold to the public during the 2017 ICO. 32% were sent to node operators and the rest stayed with ChainLink to fund its development. This means that investors only own a third of the tokens. This is a turn-off for many of them. Cryptocurrencies were born in particular out of a desire to offer a decentralized alternative. By offering a decentralized network, it is much more difficult to see a group rally around a project for their own benefit and influence the network in their direction. However, the distribution of ChainLink tokens does not make it a decentralized network at all (its oracle system is decentralized, but not its network, be careful not to mix up the two). So you are not safe from collusion orchestrated by its team of developers!